President Obama reads Bob's picture book, The First Pup, to a classroom of kindergarteners in Texas in 2011. Detail
In a recent online interview, Drawn.ca suggested that "to say Bob Staake is just an illustrator is like saying The Beatles were just a bunch of musicians; the title doesn't do the artist justice" and Publisher's Weekly commented that "Bob Staake's modern, crisp illustrations ... practically jump off the page"
One of the nation's most successful illustrators, his clients have included The New Yorker, TIME, Vanity Fair, Amtrak, PBS, American Express, Sony, United Airlines, Nickelodeon, Sports Illustrated For Kids, Ralston Purina, Hallmark Cards, Kenner Toys, Fortune, The Washington Post, AT&T, The Chicago Tribune, Good Humor, Warner Books, Kellogg's, Cartoon Network, Turner Broadcasting, The Wall Street Journal, Simon and Schuster, The Ren and Stimpy Show, MAD, USA Today, Children's Television Workshop, The Walt Disney Company, Klutz Press, Hershey's, Target Stores, Miami Herald, Los Angeles Times, The New York Times and countless others.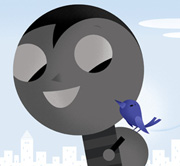 Staake's November 17, 2008 cover of The New Yorker entitled Reflection commemorating Barack Obama's election as the nation's first African- American president was named by TIME as #1 in their list of 10 Top Magazine Covers of 2008 dubbing the image "beautifully rendered" and "simply spectacular" -- in fact, it is the most popular New Yorker cover of all-time according to NewYorkerStore.com.
He has authored and/or illustrated over 60 books, including The Donut Chef, Bugs Galore, Hello Robots, Look A Book, This Is Not A Pumpkin, Pets Go Pop, and others. The New York Times named Staake's The Red Lemon one of the 10 best illustrated books of 2006.
Staake lives and works in Chatham, Massachusetts in a 200-year-old house on the elbow of Cape Cod. You can learn more about Bob at BobStaake.com